august 6 letter: covid update
Parkway Place Family:
As we continue to live in a worldwide pandemic longer than most anticipated, I wanted to provide another brief COVID update. Many of you are worshiping regularly with us for our 10:30 a.m. Sunday morning service. For those who haven't been on-campus for a while, as you feel comfortable, come back and worship with us in-person! While we are still following recommended COVID precautionary guidelines, you'll find a very safe and sanitized environment, thanks to our many volunteers. While we are still asking everyone to wear masks and practice social distancing, we are no longer asking our members to RVSP in advance. Come! If you are more comfortable worshiping with us online, continue to do so via our streaming channel on YouTube. Remember, we are one church, either on-campus or online.
As it relates to meeting on campus, we will continue with worship only on Sundays for the immediate future. Everyone involved in the regathering process desires to see all ministry groups back on campus soon. Continue to have gospel conversation in creative ways – from outdoor meetings, to coffee houses, driveways, or around kitchen tables. Stephanie and her creative team have shown us, through our first-ever virtual VBS, that sharing Christ's love can't be contained by mere walls. As I've mentioned previously, we have the incredible privilege of being the generation that shares the Gospel, even during a pandemic.
Know that Nancy and I love you. As your pastor, one of my roles and responsibilities is that of shepherd. In making COVID decisions, I will always want to err on the side of caution for your health and well-being as we remain on mission. I am grateful for the partnership of the Regathering Team and their insights and wisdom as we navigate this new reality.
On behalf of our staff and myself, it's a privilege to serve with you.
I am looking forward to seeing you Sunday, on-campus or online.
Pastor Allan
july 6 letter: looking ahead
Parkway Place Family,
As we enter our fifth month of COVID-19, I wanted to provide a brief update on our regathering efforts. Last month, based on recommendations of our Regathering Team, we started meeting on campus again for Sunday 10:30a worship. Nancy and I have loved seeing many masked faces that we've missed. As you feel comfortable, come back and worship with us on campus! You can also continue to worship with us online via Parkway Place's streaming channel on YouTube. We are one church, either on-campus or online.
Looking ahead, we desire to bring small groups back on campus as conditions allow. We'll most likely start by reopening, on Sundays, the downstairs section of Children's area and then expand to other sections of our building as prudently possible. This approach will allow us to limit exposure in other areas of our building as we continue to assess safety. As it relates to our building, for at least the next several weeks, we'll continue to have Sunday corporate worship only at 10:30a.
While there may be much confusion in the news regarding COVID-19, there is clarity in God's will. God desires for His lost children to be found. We have the incredible privilege of being the generation that shares the Gospel, even during a pandemic. I'm so thankful this mission isn't (can't) be contained by a building. Continue, as you have done so well, to show God's love as you creatively connect with others. Using Zoom makes it easy to invite others via your meeting link. Even during this pandemic, as you "go," continue to have gospel conversations!
By the way, we continue to have new families join Parkway Place and visitors each Sunday. Exciting to see God at work. We have much to accomplish together being on mission for Him.
Better Together!
Allan R. Greer, Senior Pastor
may 22 letter: regathering date & FAQs
Friday, May 22, 2020
Parkway Place Family,
Since the start of the current coronavirus pandemic it has been the desire to seek God's wisdom to guide us through this challenging time. By seeking God's Spirit, listening and consulting with government officials and other church leaders, and by seeking your input, the time to regather has come.

I'm pleased to announce we have a date to regather back on campus for Sunday morning worship: June 7!
Will our first regather Sunday be different? While the clear message of the gospel will always remain the same, our services will be different for a season. Following proper COVID-19 guidelines will require some adjustments and patience from every member. Included in this letter are some anticipated frequently asked questions to help you and your family get a sense of what to expect. We know you want to be together and we know you want our place of worship to be safe. Grace, flexibility, and understanding will be needed.
Because seating will be limited until conditions change, your input is once again needed to help the Regathering Team prepare well. Could you do us a favor? Let us know your plans by clicking this link to take a survey that should take less than a minute to complete.
We will continue encouraging our at-risk population and those desiring more time to return to continue worshiping with us online. There is grace in how you and your family proceed. We are after all, one church family, regardless of on-campus or online.
In the next few days, be expecting an update on how to best be spiritually ready to regather. We are preparing a special prayer emphasis and will be encouraging you to be a part of an intentional in-home worship opportunity before June 7th. Again, be on the lookout for more details and how to sign-up to RSVP for our regathering services.
Finally, I want to take a moment to thank the Regathering Team for the time, prayer and wisdom they are giving to help our Parkway Place family get back together safely. Parkway Place Family—I want to thank you for your heartfelt care and persistence in prayer during this unprecedented time. Continue to take care of yourself, make sure to love God and love your neighbors well, and we will see you online for worship this Sunday. We are Better Together.
Excited!
Pastor Allan
PS. Give us 1 minute and Click this link. Also, be sure to check out the PPBC Regathering FAQ Sheet.

(Click on picture for printable version of FAQ sheet)
PPBC… "A Place to Belong. One Church—on campus and online"
When will we regather?
Sunday, June 7, 2020!
What can I expect?
We ask that you bring a face covering or mask for each member of the family. If you forget one, one will be provided, but the church will only have a limited supply. Infants and toddlers (children under 10 years of age) will not be required to wear a mask. If you have a health condition that makes it impossible for you to wear a mask, we understand, but otherwise, we are asking everyone to wear a face mask.

We understand face masks can be uncomfortable and some may feel unnecessary. We are asking every member to sacrifice a little comfort for a season and out of love for others, wear a face mask.

If seating is limited, how do I let the church know I'm coming?
Due to current guidelines that will limit seating in our sanctuary (we will be using every other pew), we will have a sign-up process so you and your family can "RSVP" a seat. Details for the RSVP will be communicated soon.
We understand the inconvenience of having to RSVP and know this may temporarily cause a situation where there is not enough seating capacity for everyone. Hopefully in the rare circumstance when there is not enough seating, arriving members may need to return home and watch online. To minimize any potential frustration, we will be monitoring capacity to see if multiple services are needed to accommodate everyone. Your grace and patience are needed.
If seating is limited, why can't other parts of the building be used?
Using other parts of the building has been considered, but due to the length of time and expense it takes to thoroughly sanitize, it is currently better stewardship to limit access to one part of the building—the main worship center.
Will we have Sunday morning small groups?
When we regather on-campus, we will initially have worship service only. (We will also continue our online worship option.) Small groups will continue to meet virtually (e.g. Zoom). We will not have van transportation since social distancing and sanitization is impractical. In the weeks to come, we desire to see these restrictions loosened and eventually eliminated.
What happens once I arrive or leave?
On arrival, you will be guided through a contactless experience. Our team will guide you from your car directly to your worship seat. At all times we ask your help in maintaining a 6-foot safe distance from those not in your "family group."
Greeters will be wearing masks. We will not shake hands, hug, or high-five. Instead, we will air hug, wave, and smile.
Coffee stations will be suspended, and we will not distribute any bulletins or printed materials. While we encourage you to continue giving online, offering buckets will be stationed allowing you to drop off your offering, touch-free. Bulletin and sermon notes will be made available digitally online.
After service, we will dismiss you and direct you on leaving the building to ensure a quick, safe exit.
How is Parkway Place keeping my family safe?
Please know we are committed to protecting your health and safety. While we cannot guarantee a germ-free environment, we are being vigilant in taking steps to help prevent the transmission of COVID-19. Thank you for remaining prayerful, faithful, and flexible. A few of the many precautions we are taking:
Requiring face masks until current guidelines are loosened.
Limiting common "touch points" as we engage in contactless worship services.
Strongly encouraging all attendees over the age of 65 or those who have a compromised immune system to worship with us online. We are one church, on-campus and online!
Public areas of the church will be cleaned and sanitized before and after worship services.
Limited restroom availability. If necessary, please use the restroom before worship.
Hallway traffic and entrance/exit to and from worship will be limited.
Our sanctuary has been configured to allow for social distancing. We have measured the spacing (we will use alternating rows of pews) to meet federal standards – six feet between family units.

If you or a family member have had any of the following symptoms recently, please worship with us online:
Fever over 100 degrees
Cough or sore throat
Shortness of breath
Contact with anyone confirmed to have COVID-19 in the past 14 days
We care about your health and safety. If you are in a high-risk group, we encourage you to continue attending our online service.
What if I have additional questions?
Your input is always welcomed. If there are any additional questions or concerns, please email info@ppbc.com.
may 8 letter: regathering
May 8, 2020
Dear Parkway Place Family,
Thank you for being a church willing to adjust as we have all dealt with the current crisis. Overall, I'm very encouraged by the responses of our most recent surveys, especially where many of you have indicated your faith has grown during this time.
Recently Gov. Asa Hutchinson announced that churches could resume meeting in-person with the strong encouragement of following strict social distancing guidelines. I am grateful for the Governor, his team, and local leaders for including churches in their decision making process. As I've mentioned in our on-line services, a "Regathering Team" has been formed to help start the process of resuming on-campus worship at Parkway Place. After prayerful and thoughtful discussions, we have decided to target mid-June to resume worship in our building. We will be communicating often and will have more specifics dates as the team continues to process and meet. Conditions for resuming on-campus worship remains very fluid and your prayers are certainly needed. The team has the desire to move purposely and use appropriate caution.
There are several reasons why we are targeting mid-June. Overall, we are hoping the current guidelines will be less restrictive to allow church to be a worshipful experience. We also want to plan well, to provide an inviting, yet very safe place for you to return. Again, as it gets closer for us to regather, we will communicate specifics on what this will look like for you and your family.
Please know that Nancy and I love you and look forward to seeing you soon. Continue to grow in faith by what you are doing now, worshiping as a family using our on-line services, checking on others, and sharing gospel conversations with others. You all love and serve well. God is in control. All involved desire to resume on-campus worship soon, but don't feel the pressure to be anxious or rushed. I am grateful to our wonderfully talented technical team, my staff, and our small group leaders for transitioning to our on-line worship and meeting formats with God-honoring excellence. Who knew the word "Zoom" would be such an important part of our everyday vocabulary! Please let me know how Parkway Place can help you during this time. I'm looking forward to a CELEBRATION reunion when we can be face-to-face again!
Pastor Allan
PS. I'll see you Sunday online as we celebrate together beginning at 10:30 am www.ppbc.com.
may 7 letter: one more thing about one more thing
May 7, 2020
Hey PPBC Family,
Staying connected and keeping spiritual rhythm is so important during this sheltering-at-home time. Technology has been a great tool for doing that. However, it's important that we also reach our PPBC family that can't YouTube, Zoom, etc. To that end, we are now set up for anyone with a phone to join us, and it doesn't have to be a smart phone.
Maybe you have family or friends we could now reach by telephone, wherever they are. There are several opportunities for them:
· Sunday morning worship service at 10:30 am
· Sunday morning Bible study group at 9:15 am
· Thursday gathering at 6:30 pm
They can sing along with the music, join with us in prayer and hear a message from the Word. Just dial in at the appropriate time, enter the code and listen. And putting the phone on speaker makes it more convenient.
Here's the phone number to dial in: 877-594-8353
Here's the code to enter when prompted: 857 646 61 followed by #
BUT--
if all those numbers are intimidating and hard to work with, we can dial the person in to the service. Easy. Just let us know.
If the person needs to be dialed-in or if you have any questions or problems, call Beverly Parker, 680-6970.
Reaching more together!
Allan Greer, Senior Pastor
may 6 letter: financial update 2
May 6, 2020
Hello PPBC Family,
It has been one month since I last updated you on the financial standing of the church. In that time, we have continued to see our "normal" way of life become something none of us could have envisioned just a few months ago. Our access to work, friends, family and church is restricted by the necessity to protect each other and overcome this challenge before us.
In these past weeks, we have witnessed our church family come together to support and pray for each other in ways we also could not have envisioned a few months ago. We are meeting by phone, Zoom and YouTube. Our staff has found new and creative ways to keep in contact with us, pray for us and support us. Our praise team is leading us in worship while not even in the same room!
To no one's surprise, you have responded faithfully as a church body to find ways to be together and keep in contact and participate in worship, small groups and prayer. You have also continued to be faithful in your tithing. PPBC is certainly blessed with a responsive and giving membership. The church staff continues to be financially frugal, limiting expenditures to the essentials while continuing to maintain our ministry mission.
Year-to-date through last Sunday, we have collected $706,721. Our budgeted needs through the same period come to $770,652. Our expenses have been $649,155. Tithing can be accomplished through REALM, online at ppbc.com or by mailing to the church at 300 Parkway Place Drive, Little Rock, AR 72211.
Please remember, we are all in this together and are commanded to support each other. If you have a need, please reach out. You can email prayer@ppbc.com and share your need or prayer request.
2 Corinthians 1: 3-4—"Praise be to the God and Father of our Lord Jesus Christ, the Father of compassion and the God of all comfort, who comforts us in all our troubles, so that we can comfort those in any trouble with the comfort we ourselves receive from God."
Until we can meet together again in person, I will continue to periodically update the membership on the financial condition of the church.
Again, thank you for your faithfulness and generosity. I love you all.
Blessings,
Jesse Munn
Treasurer
may 5 letter: reopening-- not just yet
Dear PPBC family,
As you may already know, Governor Hutchinson announced yesterday, May 4th, that places of worship can open with some guidelines effective immediately. Even though we have a "green light," we at PPBC are going to proceed cautiously as we come back together. We are processing decisions daily based on prayerfully seeking God's direction, the wisdom of our local and state officials, and your input from our recent survey. Providing the safest environment possible for our community and church family is a priority. In order to do that, we will continue to meet "online only" for the next few weeks.
Our online worship experience is working well, so we will continue to maintain that tool for now. Thank you for your continued flexibility.
Also, as of this email, I am assembling a Regathering Team that will help us with a detailed plan to "reopen" as well as the necessary logistics to provide a safe environment for your return. This team will keep the PPBC family informed about next steps as we work toward being together again on campus.
So, this Sunday, May 10 (Mother's Day), we look forward to seeing you online beginning at 10:30 am.
Look for ways to encourage and serve others today with the love of Jesus.
Pastor Allan
may 3 letter: reopening/survey 2
May 3, 2020
Dear PPBC Family,
We truly miss gathering with you, and we are making every effort to keep you informed as we prepare plans for reopening. As we plan ahead on when we will have the ability to have in-person gatherings that are safe for you and your family, leadership at Parkway Place is prayerfully seeking God's Spirit, the wisdom of our local and state officials, and your input.
We ask you to complete a brief survey that will help us make reopening decisions that best reflect your needs. Please complete your survey no later than this Thursday, May 6.
We've been encouraged by the resilience of our online community and are thrilled that we have remained connected with one another during these unprecedented times. The church is more than a building, and you are proving that over and over again with your dedication to engaging in online worship, participating in groups, serving others in your communities, and loving your neighbors well.
We are continuing to lift you up in prayer, and we ask for your prayers for wisdom as we hope to gather in person again soon.
Thank you,
Allan R. Greer, Senior Pastor
Parkway Place… A Place To Belong!
may 2 letter: update/survey 1 results
Dear PPBC Family,
We have been making it one of our highest priorities to stay connected during this COVID-19 Pandemic. You matter to God and you matter to us.
Thank you for taking time to respond to the recent "Check-In Survey" we sent out earlier. We've had over 100 people respond so far. You've shared with us how you are doing and how you are dealing with this crisis. You've also shared with us ways the church can continue or begin to minister and pray for you as we together stay on mission to love God and love others with the love of Christ.
Here are a few of the things those responding told us:
72% said "My faith has grown during this crisis."
68% said "I am able to meet with a small group online."
21% said "I've been personally impacted with family issues during this crisis;" 10% said "I've been impacted by unemployment."
So many of you are experiencing the same thing during this time of social distancing—"We miss being together!"
Thank you for your honesty and transparency as we "checked-in." We were made to be in community and minister to the needs of our family and beyond. Your spiritual, mental, emotional and physical health is important during this time. If you or someone you know have specific needs (prayer, connecting to a small group, technical assistance, counseling, financial or food insecurity, etc.), please don't hesitate to get in contact with me at greer@ppbc.com or info@ppbc.com.
Tomorrow don't miss our Sunday Morning Livestream at 10:30 am (click here). Our Worship Team will be debuting a new virtual song that you're going to love. Also, we'll be looking at the question: "Are We Wasting This Hard Season?" If you want to get ahead of me, read through chapter one of James. And while you are enjoying this amazing day, beginning memorizing James 1:2-4.
Finally, I'm blessed to serve with the most amazing staff and their families. They are doing a wonderful job navigating this journey as they love the church and the community. Please keep us in your prayers.
I can't wait to see you tomorrow online.
Nancy and I love you.
Allan Greer, Senior Pastor
Parkway Place… A Place To Belong
apr 5 letter: financial update
April 5, 2020
Hello PPBC Family,
I hope this letter finds all of you safe and well. Please know that we are all in prayer for our church family and that you are not alone! Allan, Steven and the Praise Team are doing a wonderful job on Sunday mornings and while I am not there, I can feel the Lord's presence. It is such a blessing. Even though we can't meet together we can be supportive of each other so please reach out if you have a need.
These are unprecedented and trying times we are in but we have our all-powerful God to rely on and take comfort in knowing that He will meet our needs. This passage in Isaiah comes to mind:
Isaiah 41:10—"So do not fear, for I am with you; do not be dismayed, for I am your God. I will strengthen you and help you; I will uphold you with my righteous right hand."
Since we are unable to meet on Sunday with the bulletin reflecting our receipts and disbursements, I felt that an update on the financial condition of the church would be in order.
PPBC is blessed with a faithful and giving membership. In consultation with the Stewardship Team, the church staff has initiated a conservative spending plan limited to only essential expenditures. We realize that there is economic insecurity as a result of the coronavirus crisis and we will continue to monitor the church finances as we progress in the days and weeks to come.
Year-to-date through last Sunday, we have collected $594,171. Our budgeted needs through the same period come to $663,617. Our expenses have been $576,572. Tithing can be accomplished through REALM, online at ppbc.com or by mailing to the church at 300 Parkway Place Drive, Little Rock, AR 72211.
Until we can meet together again, I will continue to periodically update the membership on the financial condition of the church.
Again, thank you for your faithfulness and generosity. I love you all.
Blessings,
Jesse Munn
Treasurer
apr 3 note: 4 tips
April 3, 2020
Hey PPBC Family!
You are daily on my heart and in my prayers. This season is challenging for many of us. For some, work is coming to a halt and you're not sure what the future holds. For others, because of what you do, you're even busier. Please know that Nancy and I as well as our staff are praying for you. God is still in control. He is with us. He has peace for our souls.
Here are a few simple, practical tips that will help as we navigate this coronavirus season together:
Read your Bible and pray. I know this seems so simple, but it's crucial. Nothing that we build can last unless it's built on a strong foundation. There may be situations where you feel like you don't have a routine yet and finding you spiritual rhythm has become almost non-existent. Good news: It's never too late to get back on track. Choose to make time daily to read your bible and pray. It'll do your soul good. Spiritual Growth resources are available at ppbc.com.
Family matters. If you have kids, they may be bored or afraid but it's important to be available for them. Don't allow pressures like tension and anxiety to ruin the relationships that are so important to us. Remember: Next to God, family is your most important ministry.
Put others before yourself. There are people in your community that need you. It could be an emotional need; it could be physical need; it could be a spiritual need. I hope that during this time, instead of moving in the direction of selfishness, we would move in the direction of selflessness and be sensitive to the needs of those around us. Ask yourself: How can I be a light during this dark time?
Keep investing and inviting people to "a place to belong." There are people that are willing now more than ever to come to church. Maybe in the past they've said "no," but with all of the chaos in this world, people are open to hearing a message of hope, which is what I'll be bringing this Sunday starting at 10:30 am. Invite your family, friends, neighbors and coworkers to join us livestream at www.ppbc.com. They're going to hear about our living hope Jesus Christ and His great salvation.
Finally, I realize during this crisis that some of you are being impacted in differing degrees financially and that tithes and offerings may be impacted. I want you to know that your staff and I are practicing conservative expense management during this time. We are working closely with our stewardship team as we continue to monitor closely the finances of the church.
Nancy and I love you and are blessed to serve with you in this season. We appreciate the care and encouragement you express to us. Your support and prayers mean the world to us.
Grateful!
Pastor Allan
mar 25 letter re: in everything by prayer
We're here for you!

We've noticed during these anxious times that it helps to put words to what's troubling us...and perhaps to know that a team of folks at Parkway Place Baptist Church in Little Rock, Arkansas is praying for you too.
Why don't you give it a try.
mar 26 letter re: midweek livestream
Dear PPBC Family,
Just wanted to remind you about our mid-week livestream tonight!
Please join Steven and me at 6:30 pm tonight, (Mar 26). You can find us at www.ppbc.com. You can follow along with us by downloading the 3 documents listed below.
There will be music; we'll focus on Philippians 4:6-7 through the use of a H.E.A.R. Journal and Scripture Memory; and have a time of prayer. If you have prayer requests, please send them to us here.
Trusting Christ,
Allan Greer
Senior Pastor
mar 25 letter re: 3 questions for easter
Dear Church Family,
As we prepare to celebrate the resurrection of our Savior Jesus Christ we have prepared some questions for you to reflect on and answer. Share these questions around the dinner table and see how Christ has been at work in your family. Our goal is to magnify and glorify Christ with your responses during the Easter service.
Your responses will be shared anonymously. Please email to me at studdard@ppbc.com by Monday, April 6. Thank you!
Joel Studdard
Student Ministry Pastor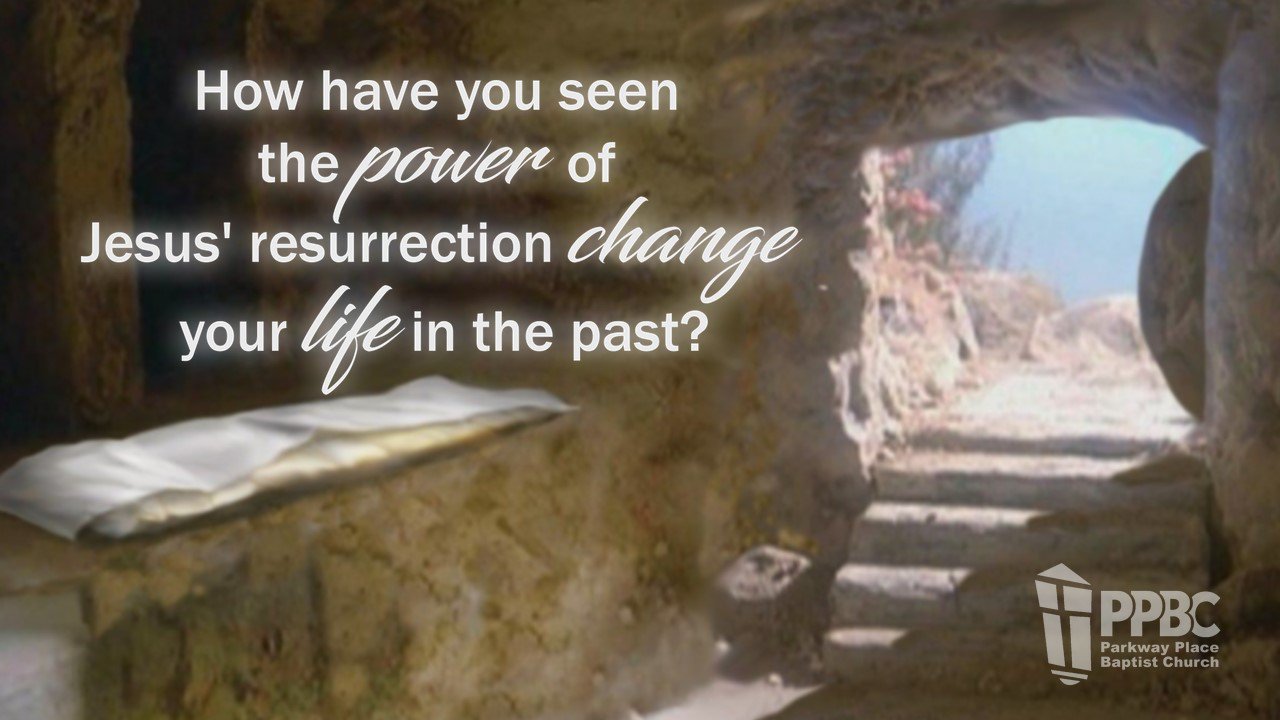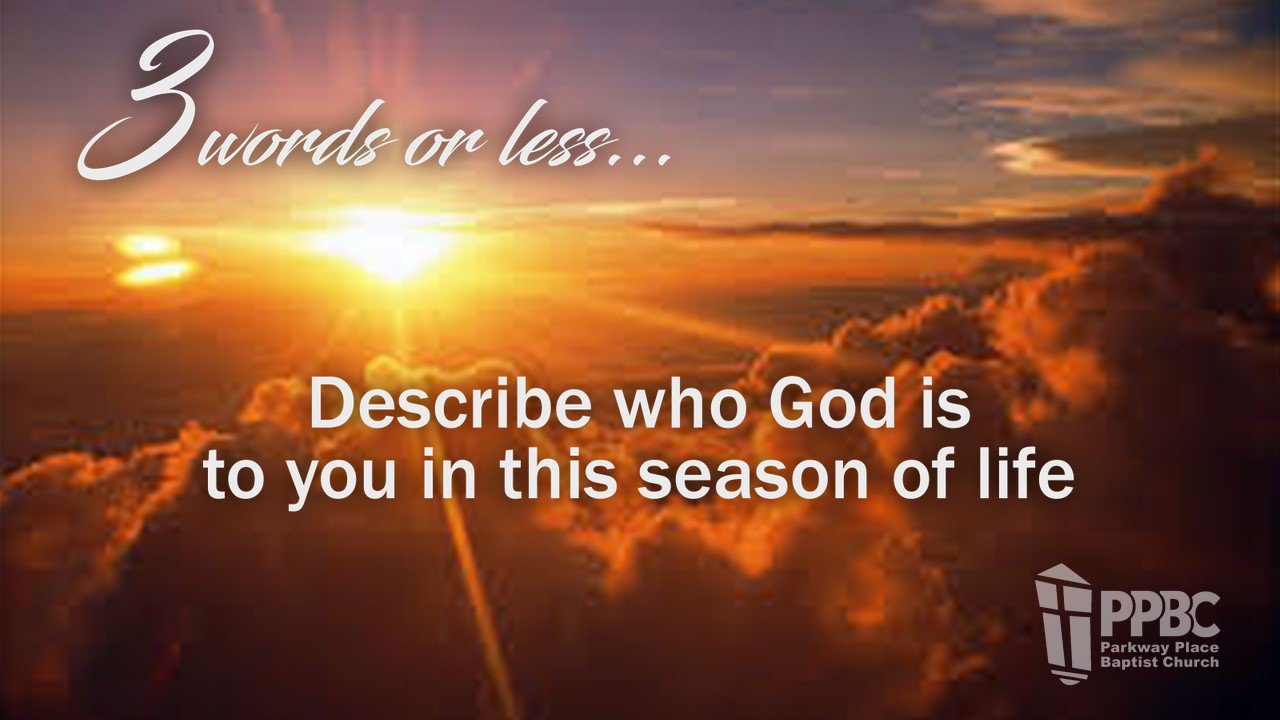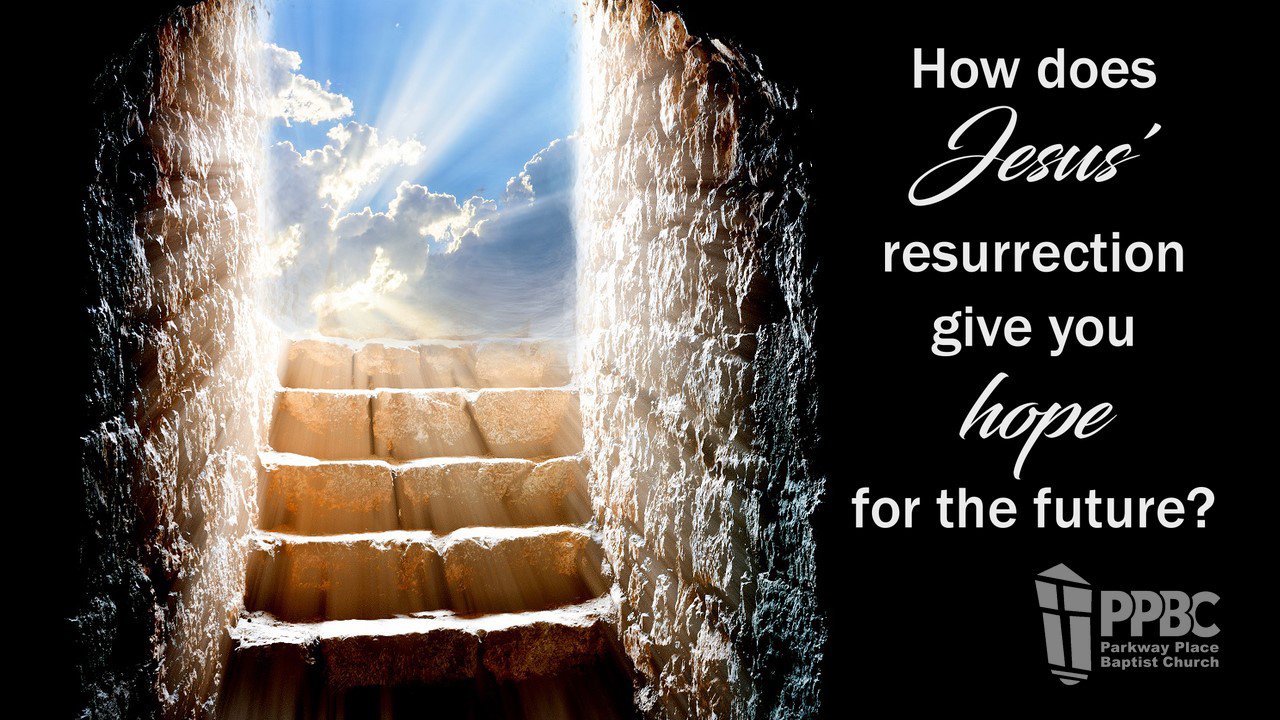 mar 23 letter re: keeping spiritual rhythm
Dear PPBC Family,
Last Sunday, I talked about maintaining spiritual rhythm during this time when everything feels so out of sync. Above all, time with the Lord will enable us to stand firm; to not turn our attention inward, but to be unselfish in meeting needs of those around us; and share the hope we have in Christ.
Today, I'm following up on my promise to send you 3 documents that will assist in maintaining your spiritual rhythm. (Click on each to open.) I hope you will practice them with me this week:
On Thursday evening, March 26, I'd like to invite you to join Steven and me for a Midweek livestream at 6:30 pm. You can find us at www.ppbc.com. You can follow along with us by downloading the 3 documents included in this email. There will be music; focus on Philippians 4:6-7 through the use of a H.E.A.R. Journal and Scripture Memory; and a time of prayer. If you have prayer requests, please send them to us at prayer@ppbc.com.
Trusting Christ,
Allan Greer
Senior Pastor
NOTE: As the current crisis surrounding COVID-19 continues, we will continue doing our Sunday Worship Celebrations online until further notice.
march 18 letter re: staying connected
Wednesday, March 18, 2020
Dear PPBC Family,
As we experience so many "firsts" navigating the Coronavirus, it's important that we keep connected. As you know, we've suspended all activity at the church through March 29. We are daily seeking God's direction as we evaluate next steps that best care for you and our community. Here's where we are today:
Sunday Morning. We had a great worship celebration this past Sunday—online. I know you join me in thanking the team that is making livestream possible. Hope you were able to be with us. We loved the pics many of you sent. You can watch worship services at www.ppbc.com. We will be live online this Sunday, March 22 at 10:30 am. We're looking forward to being with you online.
Church Offices. The staff is working as usual, but we are working remote from the church campus. If you need to contact us for any reason, you can still call the church office number (501.224.3003). It will transfer your call to either Beverly Bale or Beverly Parker. Either should be able to assist you. They will also be able to connect you to staff members. If you need to directly contact a pastor, you'll find their cell numbers on Realm. Speaking of…
Realm. If ever there was a need for you to set up Realm, it is NOW! For one thing, Realm is your church directory – it's where you get contact information for church members; learn who's who by looking at pics. (Now's a good time to add your pic!) We are sending an email to everyone who is not on Realm. The email has a link to set up your account online as well as download the app on your smartphone. This is a private, church-only database. Problems? Contact Beverly Parker 501.680.6970.
ppbc.com We are constantly working on our website to keep you informed. We're adding a place for you to check updates regarding what's happening at PPBC. It's also the one stop where you can:
Finally, God has had this verse on my mind all day long—What a comfort: Philippians 4:5b-7 (ESV) "The Lord is at hand; do not be anxious about anything, but in everything by prayer and supplication with thanksgiving let your requests be made known to God. And the peace of God, which surpasses all understanding, will guard your hearts and your minds in Christ Jesus." Nancy and I are so "thankful" for you.
P.S. Often a "text" is preferred to "email." If you would prefer us not to text short communications to you, email parker@ppbc.com
Trusting Christ,
Allan Greer, Senior Pastor
mar 14 letter re: questions you may have
Dear PPBC Family,
In the face of uncertainty created by coronavirus, I was reminded this morning about who we are as the Church: A family that faces things together. Disciples who grow through trials. God's servants who care for the hurting.Witnesses who share the Good News. Worshippers who look to God.
Jesus told us we would experience trouble, but he also promised that he will never leave or forsake us. No matter how frustrating or confusing this crisis gets, 1 John 4:18 reminds us that "there is no fear in (God's) love, but perfect love casts out fear." Fear doesn't have the last word; God does.
Our focus remains: love God and love others. We are working on ways to serve you and the community with the love of Christ as needs arise in the days ahead. We covet your understanding, your support, and most of all, your prayers as we continue to respond to this unprecedented set of circumstances.
Here are a few questions we want to help answer:
What PPBC activities have been suspended? We made the decision to suspend all official PPBC on-campus activities for two weeks (week of March 15 and 22).
How can I watch the livestream? You can join our online worship livestream at 10:30am this Sunday and next Sunday by visiting PPBC.com.
How can I stay connected with my small group? This is a great time to connect and check on people through personal phone calls, emails, texts and social media. Our small groups are a great way for us to continue to be the church to one another and to the community in this time.
How can I remain faithful in my giving? If you typically give at church, consider giving: (1) PPBC Giving Online; or (2) Text "ppbc" to 73256; (3) Mail to: PPBC, 300 Parkway Place Drive, Little Rock, AR 72211.
How will PPBC communicate with me? We are continuing to monitor and evaluate the situation daily. Our commitment is to communicate with you and share information as soon as it's available. We will do this by email and online at PPBC.com. You can also follow us: Facebook, Instagram, Twitter and Realm.
Will the church office be open? As of now, church offices will remain open, and your church staff will still be working and available as needed. Feel free to call us.
What's next? We are actively discussing the best ways to love both our community and our people in this time. Our staff and leadership recognize that this is a dynamic situation with constant new information and updates. If we have to communicate any last-minute decisions or changes, we will provide updates on social media, via email, and on our website.
How can I respond right now? Every need in the world is an opportunity to share the hope of Christ. How we as believers respond in times of crisis is a direct reflection of the faith we have in our great God! I want to encourage you not to let these circumstances negatively affect your spiritual rhythms. We can show the love of Christ in times like this by praying for others and serving the needs of our local community. I have included below a few ways you can begin to pray and serve.
Nancy and I deeply love you. We will see you online for worship.
Trusting Christ,
Allan Greer, Senior Pastor
mar 13 letter re: what we are doing

What we are doing at Parkway Place
We want to stay in close contact with our church family and provide you with updates via email and social media as we continue to monitor the Coronavirus and how it impacts our community and church. After much prayer and careful consideration with medical professionals, community leaders and current governmental assessments, we have decided to not gather for services for the following two Sundays, March 15th and March 22. EACH SUNDAY AT 10:30 AM WE WILL STREAM A LIVE SERVICE TO YOU AT ppbc.com. We are asking for you to share this information with neighbors, co-workers, family and friends through your social media or go old-school and actually call and share how to connect with us during this time.
Worship with Us Live Sunday
@ ppbc.com