Great connecting points. It's in these small groups that people can build relationships and serve together. We hope you will jump right in with both feet in one or several of these groups. If you have questions, the person to talk to is Greg Kelley, our Discipleship Leader. If you'll leave your number below, he'll give you a call.
Sunday Morning Connect Groups
Our Sunday morning Bible study groups meet at 9:15 - 10:15 am. We think it's the first best place to make friends and hear biblical truth for positive life change. Our groups are loosely based on age and/or season of life, but you are free to choose. And you're welcome to take a few "test drives" before landing on your favorite.
If it's your first time, a greeter will be glad to take you to your classroom.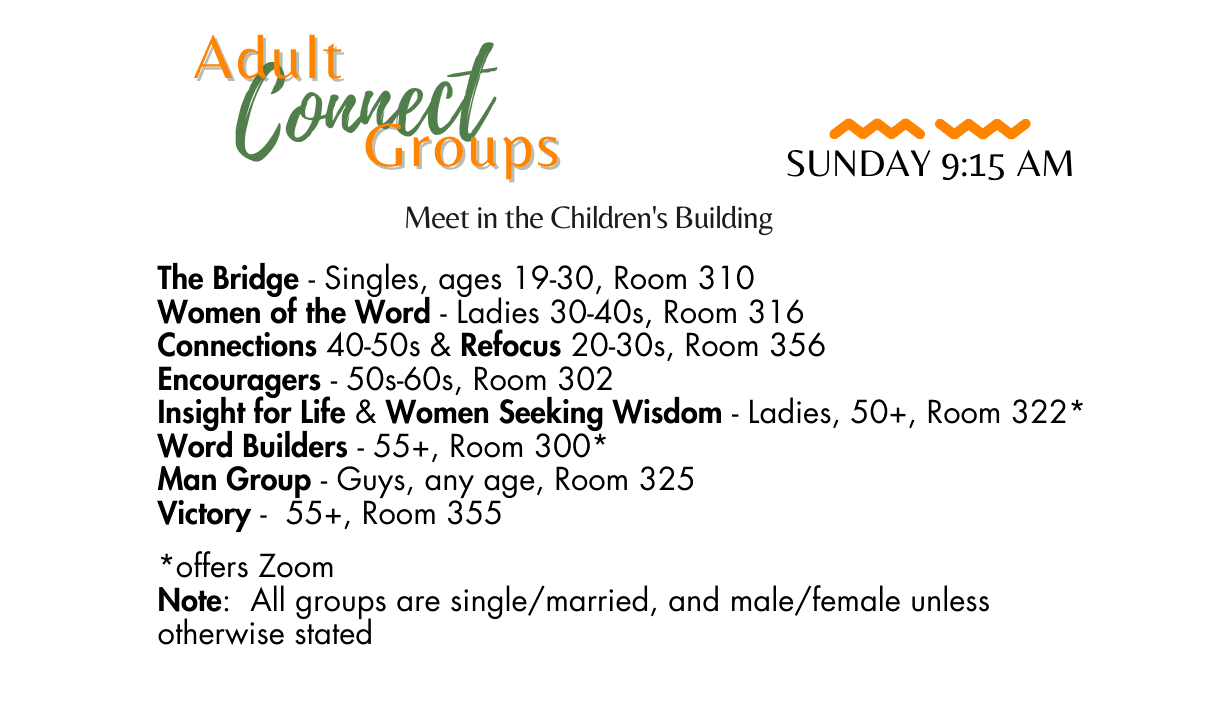 Interest Groups
Experienced Adults
These are the faithful and strong shoulders on which we stand. They're our Christian examples, our steady workers, prayer warriors and best huggers. They enjoy luncheons and day trips.
Singles
This group describes themselves this way: "We are a group of people coming together for encouragement, fun, friendships, and the pursuit of God during this journey." See their upcoming events.
Moms of VIPs (Special Needs)
These ladies have a lot of first hand experience to share and find encouragement and fellowship with each other.
GOBs ("Good Ole Boys")
Fellowship over breakfast once a month is great, and they have a big heart for helping teachers and at-risk school children.
Prayer Team
God gave some people the gift of intercession. That's this group. They enter the Throne Room together each Wednesday night, praying for revival and other needs of the church and nations.
Team Sports (Seasonal), Softball, Basketball, Golf
Our members are "moles", i.e., they play on teams that are not church teams. A great way to show Christian character and build relationships.
Music
Discipleship Groups
Discipleship is important at Parkway Place; it is an important process for every believer that provides friendships, a relational environment of accountability, and most importantly, it cultivates a life rooted deeply in God's Word.
We encourage our members to participate in a 12–18-month Discipleship Group, or a "D-Group."
A D-Group is a gender specific, closed group of 3-5 believers who meet together weekly for the purpose of accelerated spiritual transformation. A person joins the D-Group by invitation, with most D-Groups being formed out of relationships in a class or interest group.
Are you ready to go deeper in your walk with Christ?